Once again this summer, locals and visitors to Mammoth are warmly welcomed to the historic 1934 studio gallery of photographer and painter Stephen H. Willard (1894-1966).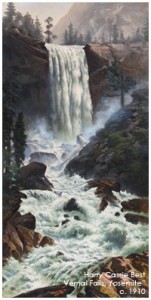 For more than four decades in the early 20th century, Stephen Willard captured the  unique beauty of this majestic location through his art. He and his wife Beatrice also provided a way station for travelers desiring information about the wonders to be found in the High Sierra. Adele Reed, who chronicled the cultural history of the area in her book, "Mammoth Lakes Memories," aptly set the scene:
"There is a little rustic studio in a lovely alpine setting just opposite the upper road into Twin Lakes. for over fifty years, gracious Beatrice Willard greeted all who came to the door…the large studio window framed one of Stephen Willard's pictures on an easel-a lake, mountain peaks."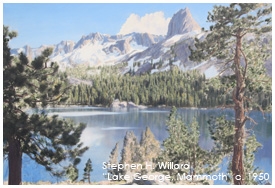 "Stephen H. Willard can be considered one of the four great western photographers of his time, along with Edward Weston, Ansel Adams and Wynn Bullock…" says Hal Gould, pioneering proponent of photography as a fine art.  Through his large-format photography and his unique paintings over enlarged photographs, Willard conveyed the drama and wonder of many high alpine lakes and peaks seen only by those who trek back country trails.
The past comes alive in this rustic but elegant nine-room cabin studio, where the Jokis live. They invite visitors to enjoy the fine art and antiques that fill every room. Out back, the one room "Miner's Cabin" style building, constructed by Willard in 1923 and moved from his earlier studio site, is also open to the public.
As historians, the Jokis find common interest with Stephen Willard, who also captured the history of these early days through his photographs of the old town and mines adjacent to the studio. Further, the Gallery at Twin Lakes opens another window into the past retelling the story of the long forgotten original town site of Mammoth City, the historic Lakes Basin and Mining District and the early days of the area's pioneers.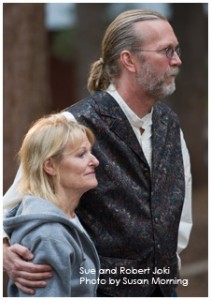 As fostered by the Willards, the Jokis have promoted interest in culture and the arts through evening concerts and lectures in an outdoor venue adjacent to the gallery. Robert works in conjunction with the Southern Mono County Historical Society and has joined its Board of Directors.
This world -class gallery's focus on Yosemite and Eastern Sierra paintings by such important museum-level, historic California painters as Edgar Payne, Maynard Dixon, Enoch Wood Perry, Charles Dorman Robinson, Raoul de Longpre and Arthur and Harry Best, make visiting here a unique experience.
"There has never before been a gallery showing this type of major historic art in the Eastern Sierra, and at an elevation of 8,750 feet, it is quite likely the highest Fine Art Gallery in the entire country. The Gallery at Twin Lakes offers not only a window into the past, but also an opportunity to take home a reminder of happy days spent in California's majestic High Sierra…"  ~ Diane Eagle Kataoka